WHAT IS MYOTHERAPY?
Myotherapy is a form of physical therapy used to treat or prevent soft tissue pain and restricted joint movement caused by muscle or myofascia dysfunction. Myofascia are the thin, fibrous sheets of tissue that surround and separate muscles. Ligaments and tendons are comprised of bundles myofascia.
The philosophy of myotherapy is founded on Western medial priniples, including anatomy, physiology and biomechanics.
Myotherapy can be used to treat a wide range of disorders including:
Overuse injury such as tennis elbow or shin splints
Some sports injuries
Tension headaches
Pain caused by poor posture
Some types of chronic back pain
Some types of joint pain, such as shoulder impingement syndrome ("frozen shoulder")
Sciatica
Muscle sprains.
WHAT IS SO GOOD ABOUT MASSAGE IN GENERAL?
Massage is perhaps one of the oldest healing traditions. Many cultures – including the Ancient Greeks, Egyptians, Chinese and Indians – were convinced of the therapeutic properties of massage and used it to treat a variety of ailments.
The skin is the largest organ of the human body and is packed with nerve endings. Massage works by soothing soft tissue and encouraging relaxation. Massage is especially effective in treating 'vicious cycle' complaints. For instance, a tension headache is often self-sustaining because the pain makes the sufferer clench the affected muscles even harder. This, in turn, creates more pain. A thorough neck and shoulder massage can release muscle tension and break the pain cycle.
One of the immediate benefits of massage is a feeling of deep relaxation and calm. This occurs because massage prompts the release of endorphins, the brain chemicals (neurotransmitters) that produce feelings of wellbeing. Levels of stress hormones, such as adrenalin, cortisol and norepinephrine, are also reduced. Studies indicate that high levels of stress hormones impair the immune system.
Some of the physical benefits of massage include:
Reduced muscle tension
Improved circulation
Stimulation of the lymphatic system
Reduction of stress hormones
Increased joint mobility and flexibility
Improved skin tone
Speedier healing of soft tissue injuries
Heightened mental alertness
Reduced anxiety and depression.

Find out more about the different styles of massage Peter offers, by clicking here.
A LITTLE BIT ABOUT PETER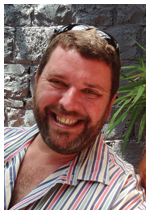 After being a stay-at-home dad raising his three beautiful children, Peter decided to retrain after many years working in the desktop publishing / graphic design industry.
Having been told for many years that he had "The Touch", Peter decided to meet this challenge head on, and retrain as a Massage Therapist. After completing both his Diploma and Advanced Diploma in Remedial Massage, Peter is now a fully qualified, registered and insured Myotherapist. He also has his Working With Children check.
Peter specialises in soft tissue manipulation and trigger point therapies, as well as dry needling and vacuum cupping, among others.
He embraces both the Western and Eastern philosophies of therapeutic treatment, such as mixing the sublime pinpoint heat therapy of moxibustion, with the clinical application of dry needling, creating a mix of modalities that has given some incredible results.
Peter also works with support organisations and individuals for specific chronic conditions, such as multiple sclerosis, Parkinson's and fibromyalgia, and will take on research challenges to ensure he has all current best practices for a client's specific needs.